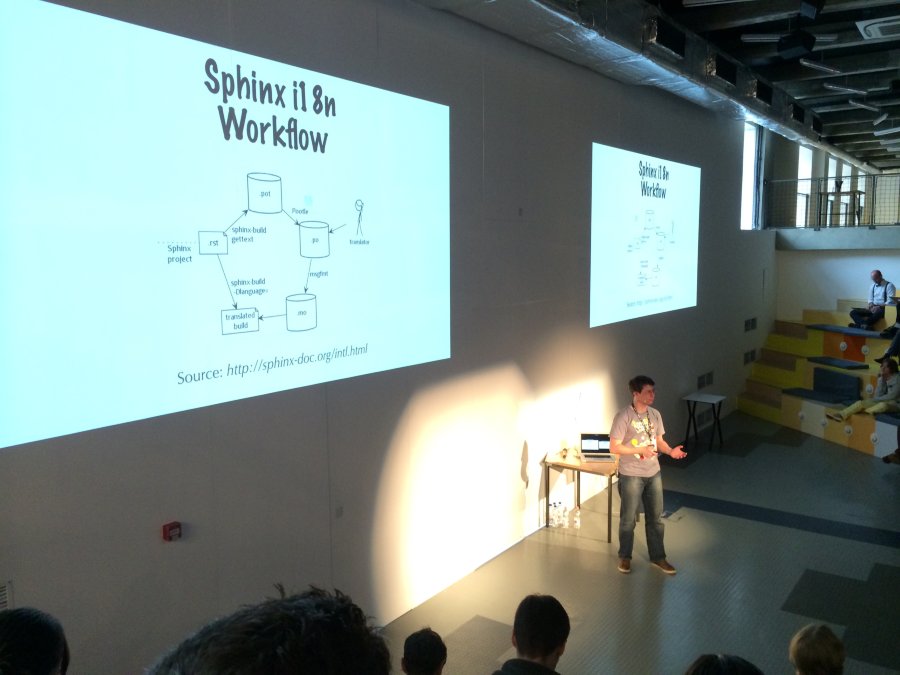 I'm at Write The Docs EU today in Budapest and will post semi–unpolished notes from sessions throughout the day after each talk finishes.
Sphinx – Python Documentation Generator
Supports many output formats.
Internationalization (i18n): Translate into other languages without changing the code. GNU gettext is used frequently.
Tip: Install sphinx-intl to make it easier to setup.
Better to setup more automation. He found himself writing tools to show the workflow, rather than typing commands.
Transifex — Online translation service, and you can use "pip" to install transifex-client.
Tips for translating Sphinx documentation
Use English for all text inside code. The source code isn't part of the translation.
Always use inline syntax, otherwise the URL will get lost when using aliases.
Maintain versioned URLs. Use extlinks extension to define URLs in the configuration.
Special cases — ifconfig
Link checking — linkcheck
What's missing?
Build all languages at once.
Method to add a "landing page".
Setting for translations.
Use gettext_compact to create a single catalog.
Language switch template.
Sphinx 1.3
Merge sphinx-into into Sphinx.
Move Transifex support from spinxh-intl to a new extension.
Allow to build all languages with a single command.